Tap or click on any text block to one-click copy the fancy text generated by the text generator.
Halloween Fancy Font Generator
Halloween Text

Halloween Text is loading...

Pumpkin Fancy Font Style

Pumpkin Fancy Font Style is loading...

Vampire Fancy Font Style

Vampire Fancy Font Style is loading...

Wizard Fancy Font Style

Wizard Fancy Font Style is loading...

Text With Halloween Signs

Text With Halloween Signs is loading...

Halloween Fancy Font

Halloween Fancy Font is loading...
That's all fancy text style we have. ¯\_(ツ)_/¯
Check Instagram Fonts for more fancy fonts
ℬℯ 𖼣𖦪𖢃𖧫𖦴𖡡ꪜ𖥮
ꞵẼ ¥𝓞Ǚ𝓡𝕊ĘŁẜ
About Fancy Text Generator
Fancy Text Generator⚡(Font Generator) is the most 𐤠ƊƲ𐤠ƝƇƸƊ online 𝐅𝐫𝐞𝐞 tool to generate cool ❝𝐬𝐭𝐲𝐥𝐢𝐬𝐡 𝐟𝐨𝐧𝐭𝐬❞ with various combinations of fancy font styles. Millions of people are using the Fancy text generator as a fancy text maker to make cute fonts to copy and paste.
To generate the stylish and cool text you just need to type or paste your text into the textbox and let the fancy text generator do its job. once you are done, the fancy text algorithm will convert multiple styles of cool, cute, and fancy fonts for you which you can copy and paste anywhere you can post.
✔ Fancy Text Pro⚡ allows you to ミ★copy and paste★彡 any 𝕔𝕠𝕠𝕝 𝕗𝕒𝕟𝕔𝕪 𝕥𝕖𝕩𝕥 by just clicking the fancy text box. The best thing about the fancy font generator is that the generated fancy text is supported on major devices and apps. You can freely use cool fancy text in your Instagram bio(check Instagram font generator also), Facebook posts, WhatsApp messages, Twitter tweets, and everywhere online (ʘ‿ʘ)ノ✿. Also, try other cool fancy text generators made especially for you!
Fancy Text Pro is the best free online fancy font generator alternative to Font Generator, Lingojam, Yaytext, Cool symbol, and Fsymbols to copy and paste fancy font online.
How To Use Fancy Text Generator Pro?
It's absolutely easy to use the Fancy Text Generator. You are just three steps away to generate your cool Fancy Text. Using this anyone can use this Fancy Text Generator tool.
Enter Your Text
Enter your normal text to the fancy text generator textbox you want to generate.
Copy Your Fancy Text
Click on your favorite fancy text box to copy the fancy text to your clipboard.
Paste Your Favourite Fancy Text
Paste the fancy text on any social media account to share with your friends & family.
Fancy Text Generator Updates
Here are the latest updates/news of the cool special font generator tool including new fancy text styles, new website eversion release and more.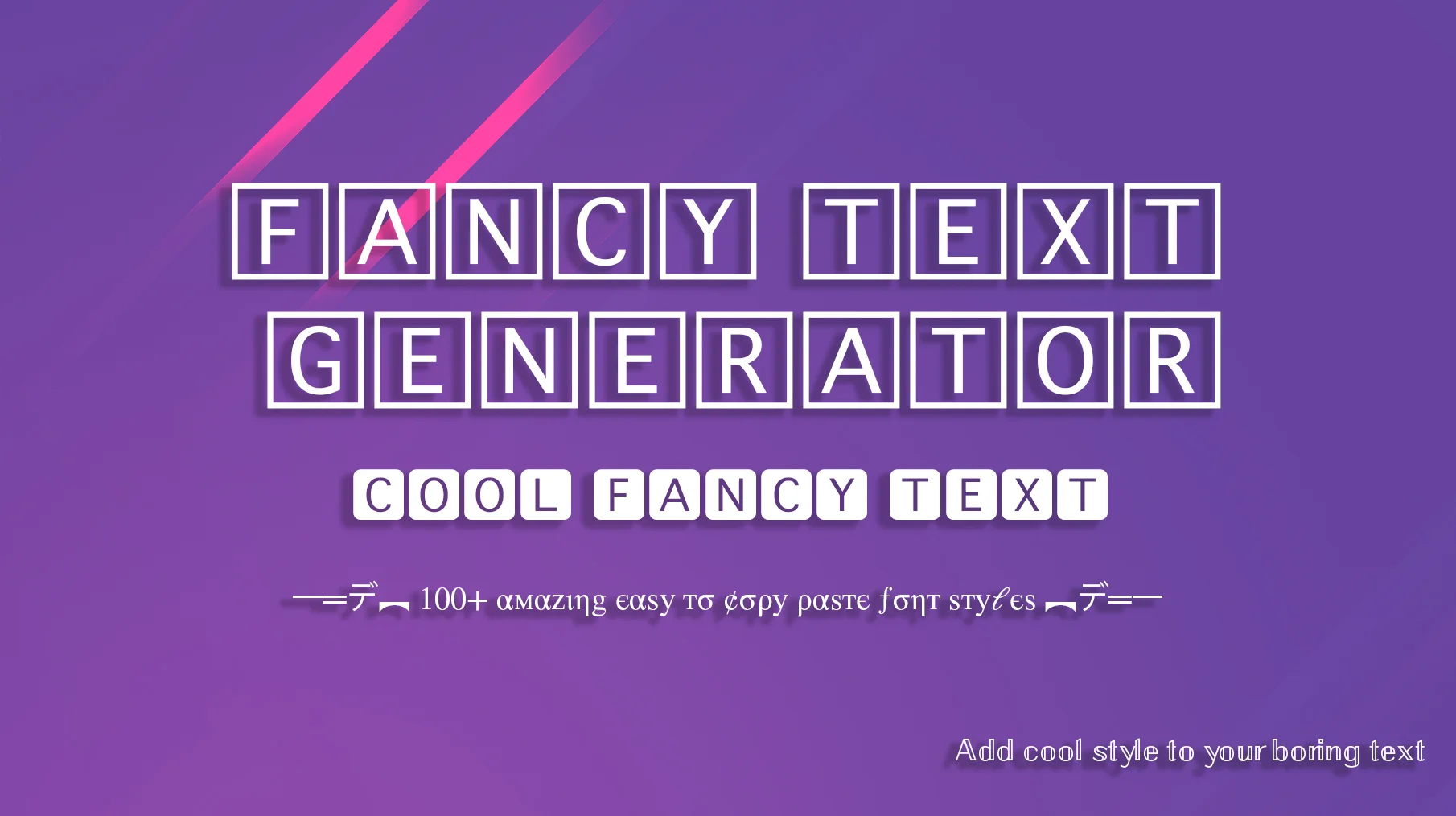 2022/05/17 ➠ Added tᥲι ᥣᥱ ᥉ᥴrιρt f᥆ᥒt gᥱᥒᥱrᥲt᥆r.

Tai Le Script Font Generator is derived from the Tai le script used in the Tai nüa language spoken by the Tai Nua people by mapping characters to look like stylish Unicode fonts. Please do visit the Tai Le Script Font Generator.

2022/05/15 ➠ Added ◦•●❤♡ Fancy Text Decorator ♡❤●•◦.

Fancy Text Decorator is a new page on fancy text pro that lets you decorate your text. We have launched an initial version of the fancy text decorator, but it will have more creative text-decoration soon. meanwhile you can visit the Fancy Text Decorator.

2021/06/12 ➠ Fancy text generator pro is now faster and more optimized ever ⚡.

The earlier version of fancy text generator pro was faster enough but was consuming much user data to be functional, to fix it we are rolling new version 5.0.0. We optimized the pages to consume less data and as always we tried to gain the user experience through a new layout, feel free to provide feedback on our contact page.

2021/05/10 ➠ Boosted fancy text website overall performance by 78% ⚡.

The fancy text website is now 78% faster than the previous version, we worked to enhance the mobile experience a lot. With a fancy text performance boost, you can generate the fancy text more quickly and you can use the other fancy text tools with lightning-fast speed.

2021/03/10 ➠ A Whole New Layout Of FancyText Pro(V4.0.0)🚀.

We are overwhelmed by your support guys, thanks for your marvelous support in the past few days. We are working hard to make a fancy text generator to be the best on the internet.

FancyText Pro becomes two times faster ⚡ than ever and loaded with more fancy font styles for you! Explore all the fancy text generators and styles specially crafted for you.

2020/12/08 ➠ New Fancy Font Style Introduced for Christmas 🎅 ☃️ 🎄 🎁 🦌 ❄️ 🔔 🧦.

This Christmas season greet your loving friend and family with Christmas fancy text generator. Wish your dear have a magical, marvelous, and merry Christmas🎄!

🎅 ᗰᗩY YOᑌᖇ ᕼOᒪIᗪᗩYᔕ ᗷE ᗯᖇEᗩTᕼEᗪ Iᑎ ᒍOY.! 🎅

🎁 ʍǟʏ ʏօʊ ɦǟʋɛ ǟ ɖɛƈɛʍɮɛʀ ȶօ ʀɛʍɛʍɮɛʀ. 🎁

This season check all new Christmas Fancy Text Generator.

2020/10/10 ➠ New Fancy Font Style Introduced for halloween 🎃 🧛 🧙 🕯️ 🏮 🔮.

New fancy fonts style has been introduced on our Unique Fancy Text Generator in the event of halloween festival. Wish your dear one a fancy spook-tacular halloween!

🎃 աɨֆɦɨռɢ ʏօʊ ǟ ֆքօօӄ-ȶǟƈʊʟǟʀ ɦǟʟʟօաɛɛռ! 🎃

This season check all new Halloween Text Generator.
Frequently Asked Question About 🅵🅰🅽🅲🆈 🆃🅴🆇🆃 🅿🆁🅾
Here are the most common question asked by the pro users of the Fancy Text Generator Pro. We try to emphasize all the answers so user of all age group will get the maximum possible help for our Fancy Text Generator Pro.
What is fancy text generator?

✔ Fancy text generator⚡ or font changer🥇 or online font generator or text converter helps you make ℂ𝕆𝕆𝕃 𝔽𝔸ℕℂ𝕐 𝕋𝔼𝕏𝕋 without any app using ASCII characters, emojis in various 𝓒𝓞𝓞𝓛 fancy text formations. the fancy text can be easily copied and paste to your favorite chat app, Instagram, Facebook, Twitter seamlessly. it is possible to make unlimited ♾ stylish fancy text using this website.

How can I add special fancy fonts to instagram bio?

Adding Special fonts on the Instagram bio made easy with fancy text Generator pro. Open the site on your phone. Type desired Instagram bio text in the textbox & when you scroll down you can see a bunch of special Instagram bio texts generated for you. you just need to tap/click on the special fonts generated to copy and then you can paste it on your Instagram bio by opening the app.

What is font changer?

Font changer lets you change your normal fonts to the stylish fonts with the help of ASCII characters, Unicode letters, symbol, signs, and number which display uniformly across the major devices / document / app without applying the external CSS styles or changing the font family. All the font generator on the FancyText Pro lets you change and copy paste font with minimal efforts.

Can I use fancy text generator pro for my website on computer?

Yes, You can use Fancy Text Generator for your website for free. In fact you can use the fancy text anywhere. Check How To Use Fancy Text Generator Pro? Section for more help.

How can I use the fancy text generator pro website on my mobile?

We made Fancy Text Generator Pro Super Mobile Friendly. so you will note have any issue to access the mobile version of the Fancy Text Generator Pro. You can generate the Fancy Text Normally and can copy with just a tap on your mobile screen.

Can I generate fancy fonts for twitter?

Yes, you can generate the fonts for twitter using the fancy text generator, we created the fancy text with varios tools and uses Unicode which is majorly supported by twitter. Just enter your text > choose your style of fancy font for twitter > paste it on tweets, reply, or message.

Can I use fancy fonts for instagram bio?

Yes, you can freely use the fancy fonts for your instagram bio fonts. Even fancy fonts look cool and attracts user attention when added on the instagram posts or comments and bio. We have are hundreds of styles of fonts for insta. Just choose the style of fancy fonts that matches your personality and paste it on your Instagram bio.

How can I generate fancy text with cursive letters?

To generate the fancy text with cursive letters, you should use our Cursive letters style.

How to generate zalgo text?

Zalgo generator is one of the font generator which can invoke the hive-mind representing chaos & feelings. check Zaglo Generator or Creepify Generator.

How unique fancy text generator is?

Fancy Text Generator pro is using the most unique variation of the text generator with different combinations of text styles, alphabets, ASCII characters to generate the cool fancy texts with an iconic design that you can not find on any other fancy text website.

What is

█▬█ █ ▀█▀

font?

█▬█ █ ▀█▀ is one of the style of fancy text generator which genates the fonts using the ▓ ▒ ░ ▄ █ ▀ ▌▐ ─ symbols to make the fonts massive also known as █▬█ █ ▀█▀ text generator. you can find some predefined letters like █▀█ █▄█ ▀█▀ font, Check the hit font generator to generate your own.

What is a fancy font generator?

Fancy font generator is a another term for the fancy text generator, they both do the same stuff to generate cool fancy text using various symbols and fonts. The other similar terms for the fancy font generator is stylish font generator.

Is a fancy font supported on Instagram?

Try Instagram fonts generator to add more cool font styles to your instagram bio, captions and comments. Most of the cool fancy fonts style is supported on Instagram. You can use multiple text styles to make your Instagram bio to your Instagram profile more appealing.

How font style applies on the normal text?

The Fancy text generator uses the most unique unicode charactors patterns to generate versatile and cool fancy font style which is supported by all major devices without any extra efforts.

Do I need to use CSS to apply font style?

No, You do not need to apply any CSS font style. As the fancy fonts made from the unicode characters, the font style will be applied out of the box.

What is the stylish text generator for Facebook?

you can use any of the fancy text styles on Facebook, The stylish text generator for Facebook majorly produces the text which is supported on Facebook.

What is the use of a simple text generator?

Simple text generator makes most simple text styles we use commonly. it includes the bold, italic, strikethrough, and underline texts. The text maker of fancy text Pro is able to produce all the simple typographical presentation using Unicode characters.